The Hostage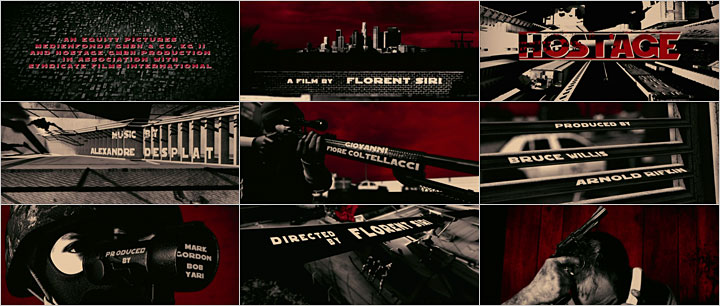 The
Frank Miller's Sin City
-inspired title sequence for
Florent Siri
's 2005 thriller
Hostage
, featuring
Bruce Willis
, places the viewer right in the center of a high profile crime scene taking place in one of L.A's upscale suburbs. The action scene - rendered in stark black-and-off-white contrasting colors, with deep blood red as the only supporting color- is frozen is frozen in time. As the camera pans across the scene, alternating between wide and close shots, the tension builds slowly but surely, culminating in the film's climactic opening scene.
Difficult to fathom, but a big part of the work on this title sequence was done by just one man,

LAURENT BRETT

.

This French title designer has since established himself as the most productive, and quite possibly as the most important French motion designers of the last decade - one who continues to work in the line of his predecessors such as

JEAN FOUCHET

.
The initial inspiration for the title sequence came from
Frank Miller
's Sin City comics and the
Panic Room
title sequence. "I'm a fan of types in perspective!" says title designer
Laurent Brett
.
"The director,
Florent Siri
is also French and I'd worked with him before on several music videos and on his previous movie 'The Nest'. Because we're friends, he involved me in this project since the first day. He wanted to make a high pressure sequence in a high contrast black-and-white style. I went to the shoot, took 1500 photos for reference and textures. We then built the set in CG and I made a lot of shots from macro to wide. I wanted to do shots that were impossible to do in real life, but with a realistic look. I edited the sequence with 30 CG shots."